The Responsible Business Alliance Code of Conduct (RBA CoC) sets a set of regulations for the electronics industry, electronics-based industries and their supply chains, so as to ensure a safe working environment and respect for workers and full of dignity, business operations are environmentally friendly and comply with ethical conduct. Winbond has established the relevant regulations of the Code of Conduct of the Responsible Business Alliance in the corporate social responsibility management procedures as a norm for all employees. Winbond is also committed to issues such as labor human rights, health and safety, environmental protection and ethics, and jointly fulfills corporate citizenship responsibilities and follows the principle of honest management.
Corporate Social Responsibility Policy
We believe that all our business activities must take CSR into consideration. We are vigilant in our enforcement of corporate ethics and compliance and constantly work to improve educational programs and strengthen our internal control system. At the same time, we pursue initiatives related to quality management, environmental preservation, philanthropy and improved communication with all stakeholders. We expect our business partners to support and act in accordance with our CSR policy.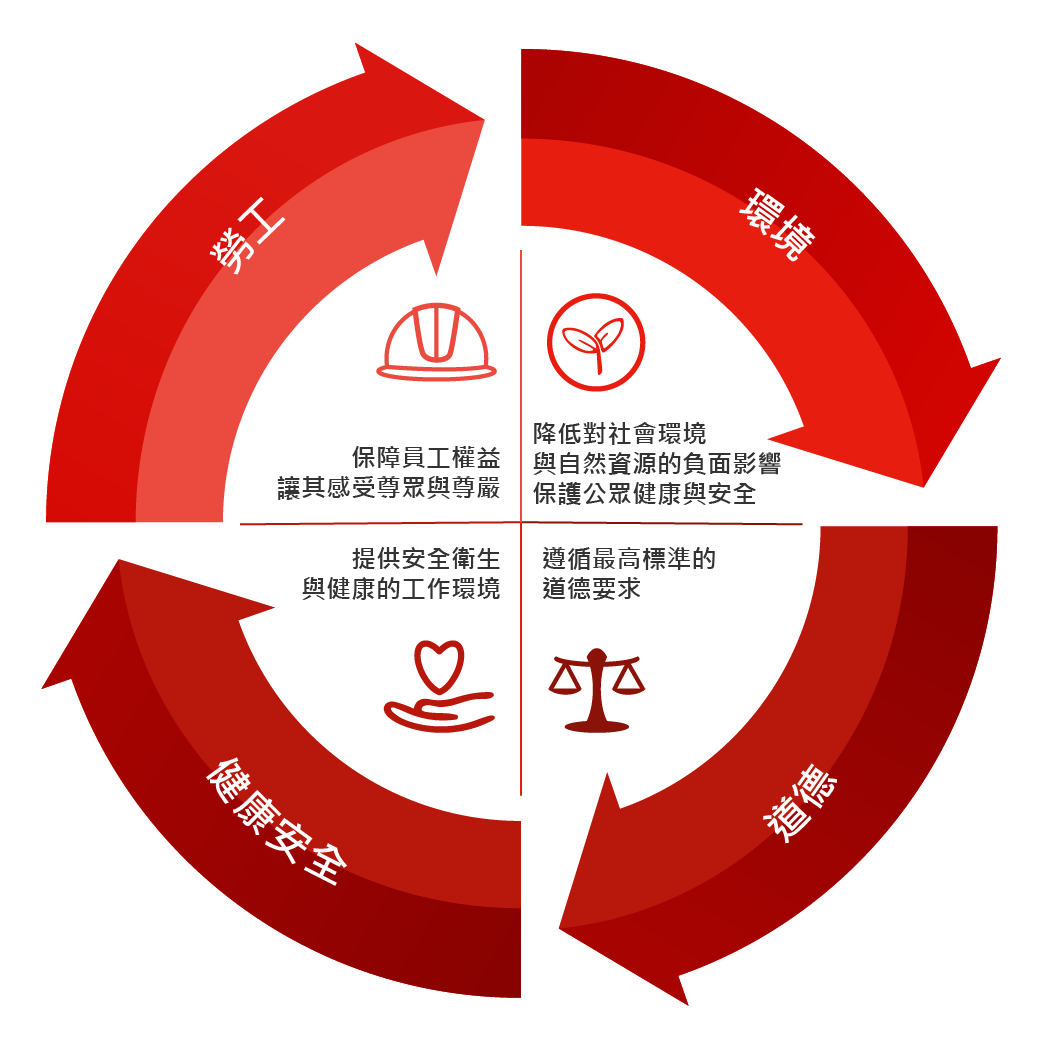 Responsible Business Alliance (RBA)
RBA Code of Conduct
Protection of Identity and Non-RetaliationResponsible Sourcing of MineralsPrivacy
Aspect
Topic

Labor

Freely Chosen Employment
Young Workers
Working Hours
Wages and Benefits
Humane Treatment
Non-Discrimination
Freedom of Association

Occupational Safety

Health and Safety
Emergency Preparedness
Occupational Injury and Illness
Industrial Hygiene
Physically Demanding Work
Machine Safeguarding
Sanitation, Food, and Housing
Health and Safety Communication

Environment

Environmental Permits and Reporting
Pollution Prevention and Resource Reduction
Hazardous Substances
Solid Waste
Air Emissions
Materials Restrictions
Water Management
Energy Consumption and Greenhouse Gas Emissions

Ethics

Business Integrity
No Improper Advantage
Disclosure of Information
Intellectual Property

Management Systems

Company Commitment
Management Accountability and Responsibility
Legal and Customer Requirements
Risk Assessment and Risk Management
Improvement Objectives
Training
Communication
Worker Feedback, Participation and Grievance
Audits and Assessments
Corrective Action Process
Documentation and Records
Supplier Responsibility
RBA Validated Assessment Program (VAP)
In September 2020, Winbond passed the biennial RBA 6.0 validation program with the maximum possible score of 200 and was given a platinum rating.

Responsible Sourcing of Minerals Policy
Winbond Follow RMI (Responsible Minerals Initiative) due diligence on the source and chain of custody of the tantalum, tin, tungsten, and gold, cobalt, mica in the products they manufacture to reasonably assure that they are sourced in a way consistent with the Organisation for Economic Co-operation and Development (OECD) Guidance for Responsible Supply Chains of Minerals from Conflict-Affected and High-Risk Areas or an equivalent and recognized due diligence framework.
Winbond Follow RMI (Responsible Minerals Initiative) due diligence on the source and chain of custody of the tantalum, tin, tungsten, and gold, cobalt, mica in the products they manufacture to reasonably assure that they are sourced in a way consistent with the Organisation for Economic Co-operation and Development (OECD) Guidance for Responsible Supply Chains of Minerals from Conflict-Affected and High-Risk Areas or an equivalent and recognized due diligence framework, and issue Winbond Responsible Minerals Due Diligence Report annually.

Winbond Responsible Minerals Due Diligence Report: Winbond Responsible Minerals Due Diligence Report