There have been no significant environmental accidents or violations that resulted in the release of chemicals to the environment at the the organization site within the past three years.
Environmental Management Department: Quality & ESH Center
Verification and reduction of greenhouse gas emission
Target: Taking 2010 as the base year, 8% reduction of emissions per unit of product by 2020(≦ 15.1 kg CO2e/layer).
2019: GHG emissions 347,378 ton CO2e; GHG emissions per unit of product 15.9 kg CO2e/layer
2018: GHG emissions 341,789 ton CO2e; GHG emissions per unit of product 15.2 kg CO2e/layer
2017: GHG emissions 313,177 ton CO2e; GHG emissions per unit of product 15.9 kg CO2e/layer
According to GHG Protocol (The Greenhouse Gas Protocol) and ISO 14064-1, Winbond has established the complete list of the greenhouse gas emission. The verification is ranging from, Scope 1-(direct emission of greenhouse gas), Scope 2-(indirect greenhouse emission), the verification of qualitative and quantity, Scope 3-other indirect greenhouse gas emission, the main emission qualitative verification. According to the statistics, the greenhouse gas emission of Winbond is mainly from the outsourced electric power that company demand. CO2 will be generated by the process. Also produce greenhouse gas while manufacturing semiconductor by using PFCs (Perfluorocarbons) including CF4, C2F6, SF6, NF3, CHF3, C4F8, etc. The result of greenhouse gas emission quantities passes the examination, confirmed by the third party every year.
The mainly emission of manufacturing stage comes from PFCs and electric power. Therefore, focusing on reducing PFCs gas and electric power not only reduce the overall amount emission of greenhouse gas efficiently but also can reduce the carbon footprint of products.
The promotion of reducing PFCs plan and measurement, as follows:
The usage of tool and its prevention facilities measurement of reduction rate and improvement.
To carry out the evaluation of the usage of PFCs tool.
To carry out the selection evaluation of the new PFCs processing prevention facilities
GHG Emissions

Electricity management
Target: Electricity usage per unit of product by 2020 is lower than 2010(≦ 22.99 KWH/layer = 82.8 GJ/layer).
2019: Electricity usage per unit of product 22.12 KWH/layer(86.9 GJ/layer)
The plants are constructed based on energy-saving designs that help save energy in the plant management system. Using a supervisory control and data acquisition system (SCADA), energy use data are monitored and analyzed to achieve optimal management on energy reduction. Continuously promote energy-saving measures to reduce energy use.
Electricity Consumption

Water management
Target: Water usage per unit of product is lower than 150 L/layer and water reuse rate is higher than 80% until 2020.
2019: Water usage per unit of product 154 L/layer; water reuse rate 82%
We establish a design for water supply and reclaim pipeline system; implement a 24-hour all-time control and monitoring system to monitor water use across the plant; renew water-saving plans annually and review effectiveness regularly.
Water Consumption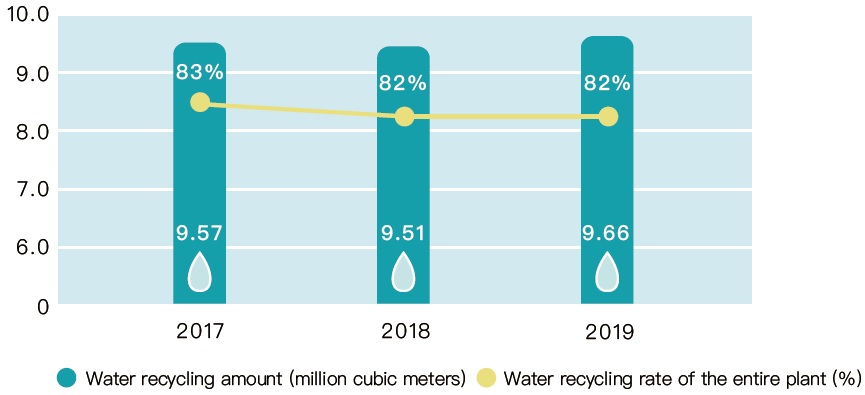 Waste management
Target: Waste recycling rate is higher than 90% until 2020.
2019: Waste recycling rate 92%
We reduce the amount of waste by reducing the use, reuse and recycling of waste. Recycling and reuse are given a priority for consideration in waste disposal to minimize impacts on the environment. Make annual plans of waste abatement, and review the effectiveness on a regular basis.
Waste Generation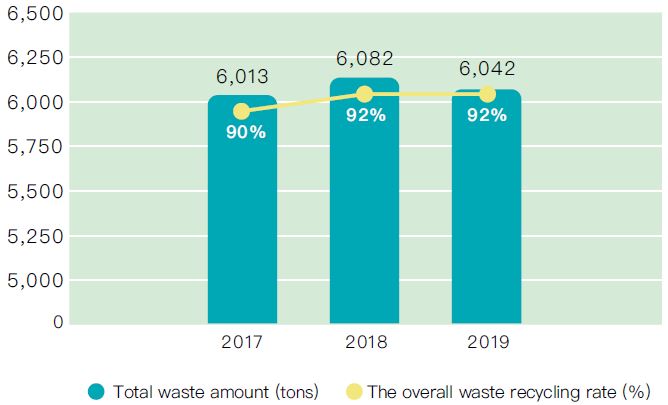 Responsibilities of green products
To ensure we provide the products that can meet the international environmental law and the client demand of green products. Winbond set up a crossed department hazardous substances management group in Winbond to control the processes from design, purchasing, manufacturing to shipping. Winbond also requests all our vendors and suppliers to meet Winbond's green product requirements.
Hazardous Substances Free quality policy
Winbond is committed to comply with applicable regulatory and customer's requirements by applying hazardous substance free concept in all aspects of product design, procurement and manufacturing.
QC080000 IECQ HSPM system approval
Winbond has accomplished HSPM system approval, and received register. Ranging from product development, purchasing, manufacture and freight products. Winbond successfully proved that Winbond has the ability to manage hazard substances by the management system and to ensure we can reach the client's request and provide Hazardous Substances Free products that meet the standard of international regulation and environmental friendly.
Sony Green Partner
In 2003, Winbond became a member of Sony Green Partner, we pass the re-approval verify, until today we are still the member. It proves that our result of hazardous substances management has reached the approval from our clients.