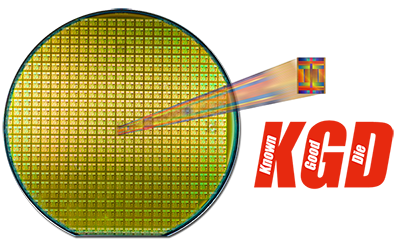 Known Good Die (KGD)
Several customers utilize Winbond's expertise in using flash products in Known Good Die (KGD) for SIP (System In Package) solutions. Flash dies are stacked with Controller dies and put in a single package or module to provide SIP solutions. KGD of other devices can also be stacked with flash KGD.
RDL (Re-Distribution Layer) capability is also available with KGD to provide additional flexibility to customers who need a different pad layout. Winbond has been providing flash and DRAM KGD for several years since they provide cost and space efficient alternatives to packaged products with limited bonding pads & wires, and this also provides enhanced hardware security. These dies go through 100% burn-in and are tested to the same extent as packaged flash parts – only then they are recognized as Known Good Die (KGD).
If any request of KGD, please contact us.