Winbond Electronics Corporation today (Feb. 21st) announced that the company was awarded ISO 26262 certificate in accordance with highest safety standard in automotive vehicles. Winbond is also the first memory IC company who received the process certificate of ISO 26262, Road Vehicles – Functional Safety Standard by SGS in Taiwan.
The increasing needs of Internet of Vehicles and advanced smart vehicle products have grabbed many attentions from international leading manufacturers in recent years, especially in automotive electronics industry. The "reliability" and the "safety" are key indicators of product qualification for automotive electronic products. ISO 26262, the Functional Safety Standard which released in 2011, is a certification indicator to verify whether the automotive electronic suppliers meet ASIL (Automotive Safety Integrity Level) requirement.
Winbond possesses strong RD team and competitive designing capability, endeavors to develop and offer high quality products and services. Winbond started to implement SGS consulting and certificating services since 2018 in order to promote the reliability and the safety of automotive electronic products. Today we are honored to be awarded the ISO 26262 certification. In the future, Winbond will follow the requirement of ISO 26262, and keep developing various high quality and reliability memory solutions for automotive electronic devices.
SGS Taiwan President Chi-Hung Chiu(邱志宏) said that the ISO 26262 automotive safety certification includes management of functional safety, concept phase, system-level, hardware-level, and software-level designs and verifications, manufacturing, operation, maintenance, and decommissioning services for the entire product life cycle. All requirements have to be met to enter into the high-end automotive electronic market.
He also points out that Winbond, with the process certificate of ISO 26262, shows Winbond's functional safety capabilities of the product development. This not only secures Winbond as a reliable partner with the major automotive makers, but also strengthens the competitiveness for domestic and oversea orders. Furthermore, products with ASIL (Automotive Safety Integrity Level) certificate will be effective to expand automotive electronic market and meet the needs of the international automotive supply chains.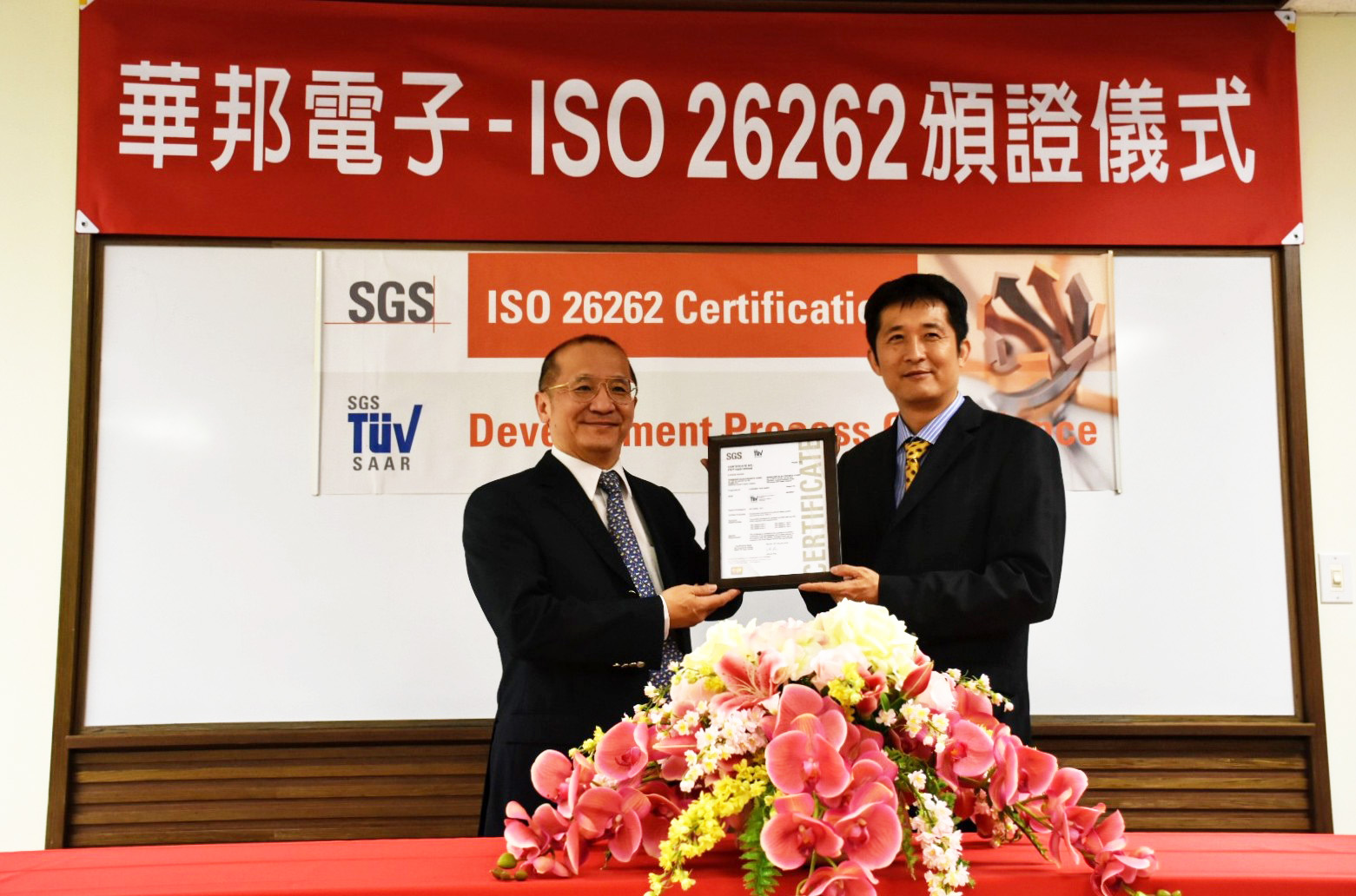 ISO26262 Certificate Award Ceremony
(From left to right-Winbond President,Tung-Yi Chan and SGS Taiwan Vice President,Jack Kuo)
About Winbond
Winbond Electronics Corporation is a total memory solution provider. The Company provides customer-driven memory solutions backed by the expert capabilities of product design, R&D, manufacturing, and sales services.
Winbond's product portfolio, consisting of Specialty DRAM, Mobile DRAM and Code Storage Flash, is widely used by tier-1 customers in communication, consumer electronics, automotive and industrial ,and computer peripheral markets.
Winbond headquarters in Central Taiwan Science Park (CTSP)and has subsidiaries in the USA, Japan, Israel , China and Hong Kong.
Based on Taichung and new Kaohsiung 12-inch fabs in Taiwan, Winbond keeps pace to develop in-house technologies to provide high-quality memory IC products.
---
Spokesperson
Jessica Chiou-Jii Huang
Vice President & Chief Financial Officer
TEL:
886-3-5678168
886-987-365682
News Liaison
Mandy Wang
TEL:
886-3-5678168 #71477
886-975-995525
E-mail:YCWang16@winbond.com