New W25N01JW NAND Flash IC offers reliable, lower-cost alternative to SPI NOR Flash in 1Gbit and 2Gbit capacities for automotive displays and instrument clusters
TAICHUNG CITY, Taiwan – 05 June, 2018 -- Winbond Electronics Corporation, a leading global supplier of semiconductor memory solutions, today announced the introduction of a High-Performance Serial NAND Flash memory IC which offers a new high data-transfer rate of 83MB/s via a Quad Serial Peripheral Interface (QSPI).
Winbond's new High-Performance Serial NAND technology also supports a two-chip dual quad interface which gives a maximum data transfer rate of 166MB/s.
This high-speed Read operation, some four times faster than existing serial NAND memory devices offer, means that the new W25N01JW chip can replace SPI NOR Flash memory in automotive applications such as data storage for instrument clusters or the Center Information Display (CID).
This is important for automotive OEMs because the adoption of more sophisticated graphics displays in the instrument cluster, and larger display sizes of 7" and above in the CID, is increasing system memory requirements to capacities of 1Gbit and higher. At these capacities, serial NAND Flash has a markedly lower unit cost than SPI NOR Flash, and occupies a smaller board area per Mbit of storage capacity.
SPI NOR Flash has been the preferred memory technology in automotive displays for many years because of its high read speed, which supports the fast boot requirements of automotive user interfaces, and because of its high reliability and long data retention. By raising the data transfer rate of its serial NAND technology to 83MB/s – matching the read speed of automotive SPI NOR Flash – Winbond has ensured that the W25N01JW can support fast boot operation and the demanding requirements of sophisticated graphics applications.
The W25N01JW also meets strict automotive requirements for quality and reliability. Built with high-reliability Single-Level Cell (SLC) memory technology, and implementing 1-bit Error Correction Code (ECC) on all Read and Write operations, it complies with the endurance, retention and quality requirements of the AEC-Q100 standard and relevant JEDEC specifications.
The W25N01JW device operates from -40°C to 105°C and retains data for 10 years at 85°C after 1,000 Program/Erase cycles - whereas eMMC can only retain data for a fraction of that time under these conditions even when used in SLC mode, which are today widely used for data storage in the CIDs of high-end vehicles, which are today widely used for data storage in the CIDs of high-end vehicles.
William Chen, Deputy Director of the Flash Product Marketing Division at Winbond, said: 'Cars' large and attractive displays need higher memory capacity, beyond the 'sweet spot' of SPI NOR Flash, which is good for up to 512Mbits. For systems that require high-speed memory in capacities of 1Gbit or higher, Winbond's High Performance Serial NAND Flash is the new best choice for automotive OEMs, offering a combination of lower unit cost, smaller size and excellent reliability and data retention.'
The W25N01JW is available for sampling today in a capacity of 1Gbit. A two-chip implementation in Dual Quad I/O mode provides 2Gbits of memory capacity and a maximum data transfer rate of 166MB/s.
The chip is available in Industrial Grade and in an extended-temperature Automotive Grade version operating at up to 105°C. It is compatible with standard SPI NAND Flash protocols. It is housed in standard 8mm x 6mm WSON and TFBGA packages that are footprint-compatible with standard SPI NOR Flash products.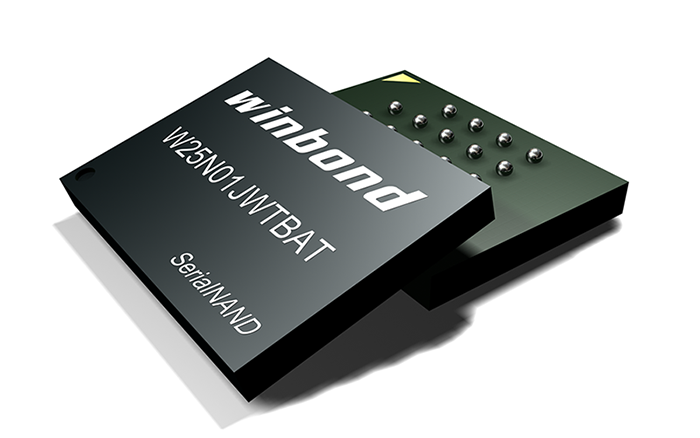 About Winbond
Winbond Electronics Corporation is a leading global supplier of semiconductor memory solutions, headquartered in Taichung, Taiwan. Winbond's major products include Specialty DRAM, Mobile DRAM, and Code Storage Flash Memory with Winbond's memory business revenues in 2017 about US$1.25 billion. Winbond has approximately 2,800 employees worldwide, with offices in Taiwan, Hong Kong, China, Japan, Israel, and the USA. For more information, please visit: www.winbond.com.
Product Contact
Wilson Huang
Flash Memory Marketing Manager
TEL: 886-3-5678168 #75310
E-mail: HWHUANG5@winbond.com
Technical Contact
Takehiro Kaminaga
Flash Memory Professional Manager (Winbond Electronics Corp. Japan)
TEL: 81-454781882
E-mail: TKAMINAGA@winbond.com
News Contact
Yulia Lee
Digital Marketing Manager
TEL: 886-3-5678168 #75395
E-mail: YLLI5@winbond.com
Spokesperson
Jessica Chiou-Jii Huang
Vice President & Chief Financial Officer
TEL: 886-3-5678168/886-987-365682