Latest 52MB/s QspiNAND products give users freedom to apply their preferred ECC software and data access configurations
(Taichung, Taiwan – June 2, 2020) -- Winbond Electronics Corporation, a leading global supplier of semiconductor memory solutions, today extended its record of leading the industry's innovation in specialty Flash memory with the introduction of a more flexible, high-speed read capability in its latest QspiNAND Flash products. Automotive and IoT device manufacturers are increasingly adopting high-performance Single-Level Cell (SLC) NAND Flash as a low-cost alternative at densities of 512Mbits and higher to the NOR Flash traditionally used for code storage. Previous Winbond innovations in high-performance NAND Flash include the Quad SPI-NAND interface, which shares the same 6-pin signals and QSPI command set as Quad SPI-NOR, and the Continuous Read function, which achieves up to a 52MB/s continuous data transfer rate at a 104MHz clock frequency.
Now Winbond has created another innovation in high-performance NAND Flash with the introduction of the Sequential Read function in its latest high-performance W25NxxxJW QspiNAND Flash devices. In Sequential Read mode, the QspiNAND Flash products achieve the same 52MB/s maximum data rate at 104MHz as in Continuous Read mode, but with new flexibility to configure the chip's operation. The most important new options are:
Freedom to apply the user's own ECC engine. In Continuous Read mode, a Winbond W25N device only supports its own on-chip 1-bit ECC engine. In Sequential Read mode, users can implement 4-bit, 8-bit or any-bit error correction when enabled by an external ECC engine.
Access to the entire memory array – both the Main Area and the Spare Area - with a single Read command. This is ideal for code shadowing applications in which low latency and fast boot time are particularly important.
Greater flexibility to configure the data arrangement to suit the user's application.
"By providing for high-speed operation with its Continuous Read function, Winbond had already made QspiNAND Flash a viable option for use in code storage applications, including for code shadowing and execute-in-place operations," said Syed S. Hussain, Director Segment Marketing, Winbond Electronics America Flash Business Group. "Now the addition of Sequential Read means that users can benefit from the same high Read speed of up to 52MB/s while implementing their chosen ECC engine and data access arrangements."
The new 1.8V QspiNAND Flash products are available in densities of 512Mb, 1Gb and 2Gb. The 3.0V versions are available in densities of 2Gb and 4Gb. All are manufactured in the company's 12-inch wafer fabrication facility in Taichung, Taiwan. Winbond is expanding capacity to meet new demand expected in both the automotive and IoT market segments. The new W25N QspiNAND Flash devices are offered in compact 8-pin packages – a space-saving format which was not possible for SLC-NAND Flash memory products before Winbond's development of an effective QspiNAND Flash interface. Clock speeds of 104MHz allow the equivalent of 416MHz (104MHz x 4) speed for Quad I/O performance when using the Fast Read Dual/Quad I/O instructions. To provide better NAND Flash memory manageability, the devices perform on-chip bad block management.
Key features of the Winbond W25N family of NAND Flash memory products are:
Wide Temperature Range
– -40°C to +85°C operating range in Industrial GRADE
– -40°C to +105°C operating range in Industrial plus and Automotive GRADE
Unique Memory Architecture
– Page Read Time with ECC Enabled: 60μs
– Page Program Time: 250μs (typ.)
– Block Erase Time: 2ms (typ.)
– Fast Program/Erase performance
– Supports OTP Memory Area
High-Performance QspiNAND Flash
– QSPI implementation in 46nm process technology
– More than 10-years data retention
– 104MHz clock frequency that can support up to 52MB/S continuous data transfer rate
Space Efficient Packaging
– WSON8 6x8mm
– WSON8 5x6mm
– TFBGA24 6x8mm
– KGD (Known Good Die)
For more information, please visit www.winbond.com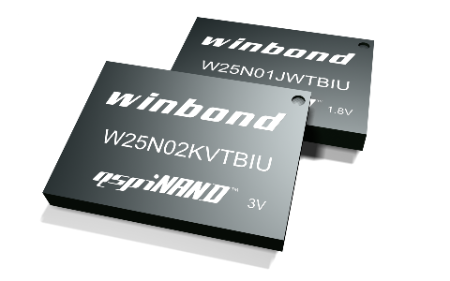 About Winbond
Winbond Electronics Corporation is a total memory solution provider. The Company provides customer-driven memory solutions backed by the expert capabilities of product design, R&D, manufacturing, and sales services. Winbond's product portfolio, consisting of Specialty DRAM, Mobile DRAM and Code Storage Flash, is widely used by tier-1 customers in communication, consumer electronics, automotive and industrial, and computer peripheral markets. Winbond is headquartered in Central Taiwan Science Park (CTSP) and it has subsidiaries in the USA, Japan, Israel, China and Hong Kong. Based on Taichung and new Kaohsiung 12-inch fabs in Taiwan, Winbond keeps pace to develop in-house technologies to provide high-quality memory IC products.
Winbond is a registered trademark of Winbond Electronics Corporation. All other product names that appear in this material are for identification purposes only and are acknowledged trademarks or registered trademarks of their respective companies.
---
Product Contact
Wilson Huang
Flash Memory Marketing Manager
TEL: 886-3-5678168#75310
E-mail: HWHuang5@winbond.com
News Contact
Yulia Lee
Digital Marketing Manager
TEL: 886-3-5678168#75395
E-mail: YLLI5@winbond.com
Spokesperson
Jessica Chiou-Jii Huang
Vice President & Chief Financial Officer
TEL: 886-3-5678168/886-987-365682