Hsinchu, Taiwan, 03.07, 2017- Winbond Electronics Corporation (TSE:2344) , a worldwide leading supplier of specialty memory, announced it has signed a general quality agreement with Siemens, the world market leader in solutions for industrial market, for memory supply. It shows that the outstanding quality as well as stable supply of Winbond's memory products have been well recognized. Siemens and Winbond will cooperate to achieve zero defect targets of their products.

Said Mr. Wolfgang Kühner, Prime Representative of Semiconductors Quality Management at Siemens, "Siemens needs a memory supplier that can meet our stringent quality requirements, and make contributions to our successes with progressive products and solutions, as well as strong customer supports." "Winbond provides all these with its broad product portfolio of NOR- and NAND Flash as well as DRAM memory needed for industrial solution."

"Industrial applications need not only robust quality and reliability, but also long-term product supports. By owning own fab, Winbond can deliver best-in-class quality and provide long term support program to industrial customers," said Mr. Tung Yi Chan, President at Winbond. " "We're pleased to collaborate with Siemens. It would be a remarkable achievement after we entered automotive and industrial market."

About Winbond
Winbond Electronics Corporation (TSE:2344) is a leading global supplier of specialty memory solutions.
The Company provides customer-driven memory solutions backed by the expert capabilities of product design, R&D, manufacturing, and sales services.
Winbond's product portfolio, consisting of Specialty DRAM, Mobile DRAM, Code Storage Flash, is widely used by tier-1 customers in the consumer, communication, computer peripheral, automotive and industrial markets. Based on a 300 mm wafer fab, Winbond keeps pace with the latest technologies to provide high-quality memory IC products.
Winbond headquarters in Central Taiwan Science Park, Taiwan, and has subsidiaries in America, Japan, China, Israel and Hong Kong. For more information, please visit http://www.winbond.com.

About Siemens
Siemens is a global powerhouse focusing on the areas of electrification, automation and digitalization. One of the world's largest producers of energy-efficient, resource-saving technologies, Siemens is a leading supplier of systems for power generation and transmission as well as medical diagnosis. Further information is available on the Internet at www.siemens.com.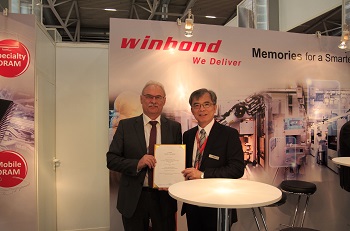 Winbond signs a General Quality Agreement with Siemens. (From Left to Right) : Mr. Wolfgang Kühner, Prime Representative of Semiconductors Quality Management at Siemens and Mr. Y.M. Su, Vice President, Sales Center at Winbond
Spokesperson:
Ms. Jessica Chiou-Jii Huang
Vice President & Chief Financial Officer
Tel:(03)5678168 /0987-365682
News Liaison :
Mandy Wang
Tel:0975-995525
E-mail: YCWang16@winbond.com