Winbond TrustME® Secure Flash products strengthens the robustness by securing code and data storage for trusted boot and firmware updates using external secure flash. In an increasingly security conscious world, robust solutions for trusted boot and firmware updates are indispensable to IoT security foundation.
Winbond's Common Criteria certified production site guarantees secured production, software programming, and key provisioning for connected systems.
---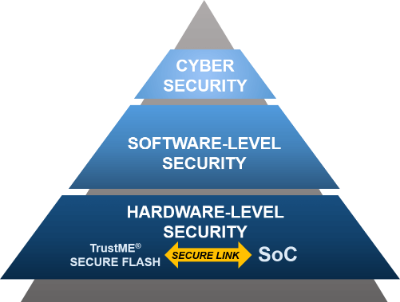 Enhance System's Cyber Security
Secure Flash Memory enabling trust and providing scalability
Hardware security is the foundation of cyber security
Secure Storage is the core of hardware security
---
Addresses All Levels of Resilience and Protection
W75F and W77Q can satisfy the composite certification scheme to save customer's effort and expedite time-to-market.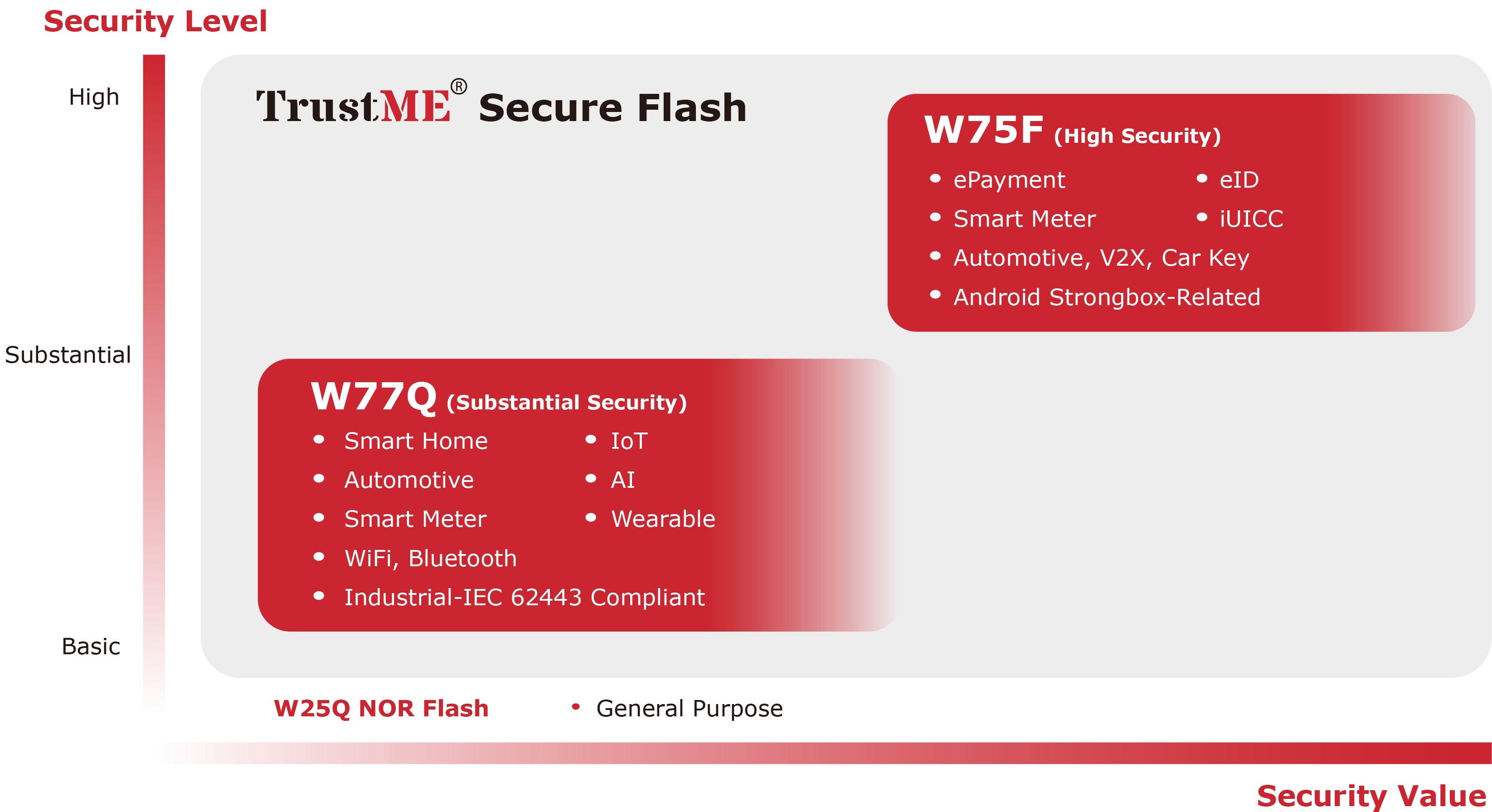 TrustME® Security Product Category
Product
Description
Density
Application
Security Level
W77Q
Secure Flash Memory

16Mb, 32Mb, 64Mb1), 128Mb1),

IoT, Industrial, Automotive, Smart Home, AI, Smart Meter, Wearable, WiFi, Bluetooth, MFP

Substantial:

CC EAL 2+
SESIP Level 2 (with IEC 62443 and NIST 8259A ready)
ISO 26262 ASIL-C ready
ISO 21434 1)
FIPS 140-3 ACVTS (for 16/32Mbit)
FIPS 140-3 CMVP L1 (for 64/128Mbit)1)

W75F
Secure Memory Element

4Mb, 16Mb, 32Mb

Integrated SE, Integrated UICC, Industrial, IoT, Automotive, ePayment, Smart Meter, eID, Android Stongbox-Related

High:

CC EAL 5+
PSA Certified Level 2 ready
SESIP Level 3 + Physical Attacker
ISO 26262 ASIL-D ready
ISO 214341)

W76S
Secure Element

16Mb, 32Mb

ePayment, eUICC, Cold Wallet, Android StrongBox, Automotive, IoT

High:
1) In progress