Hsinchu, Taiwan– 2023-03-20 – Winbond Electronics Corporation, a leading global supplier of semiconductor memory solutions, announced today that it has been named a Top 100 Global Innovators™ 2023. The annual list from Clarivate™, a global leader in connecting people and organizations to intelligence they can trust to transform their world, identifies organizations at the pinnacle of the global innovation landscape by measuring excellence focused on exceptional consistency and scale in innovativeness. Winbond Group is named in this list for the first time, which is a testament to its sustainability in innovation and R&D efforts, as well as its success of global patent strategy.
Gordon Samson, Chief Product Officer, Clarivate, said, "Congratulations to Winbond on being one of Top 100 Global Innovators™ 2023 by Clarivate, becoming a leading player in the global innovation ecosystem. Winbond has demonstrated outstanding innovation, with excellent performance in both the success and globalization of patent applications."
Winbond, Nuvoton, Nuvoton Japan and its subsidiaries have ingrained innovative thinking into their corporate culture, actively encourage innovation, implement prudent intellectual property management, and align patent strategies with corporate goals and R&D resources to increase the proportion of patent proposals linked to product development strategies, foster innovation and R&D, and strengthen awareness of intellectual property protection among employees.
"Aggressively innovate is one of Winbond, Nuvoton, Nuvoton Japan and its subsidiaries' corporate cultures," said Pei-Ming Chen, President of Winbond. "In recent years, Winbond has continuously invested in the development of new product applications in emerging fields such as the Internet of Things, smart industry, medical, and automotive, bringing performance upgrades to applications that require high performance and security and providing customers with green products that are low-power and environmentally friendly. Being one of Top 100 Global Innovators™ 2023 recognizes Winbond, Nuvoton, Nuvoton Japan and its subsidiaries' innovation achievements in the form of patents. We will continue to combine our intellectual property strategy with our operational goals to accumulate and improve the quality of intellectual property while enhancing our long-term competitive advantage by focusing on important markets."
Winbond further stated that based on its corporate vision of "Be a hidden champion in providing sustainable semiconductors to enrich human life," Winbond Group will continue to develop green technologies, integrate innovations into product design and process development, link operational goals, emerging application needs, and globalization indicators to its patent strategy, thereby enhancing patent quality and product added value. This will further demonstrate the operational resilience and foresight of Winbond Group, create business value, and become a reliable and indispensable partner for customers.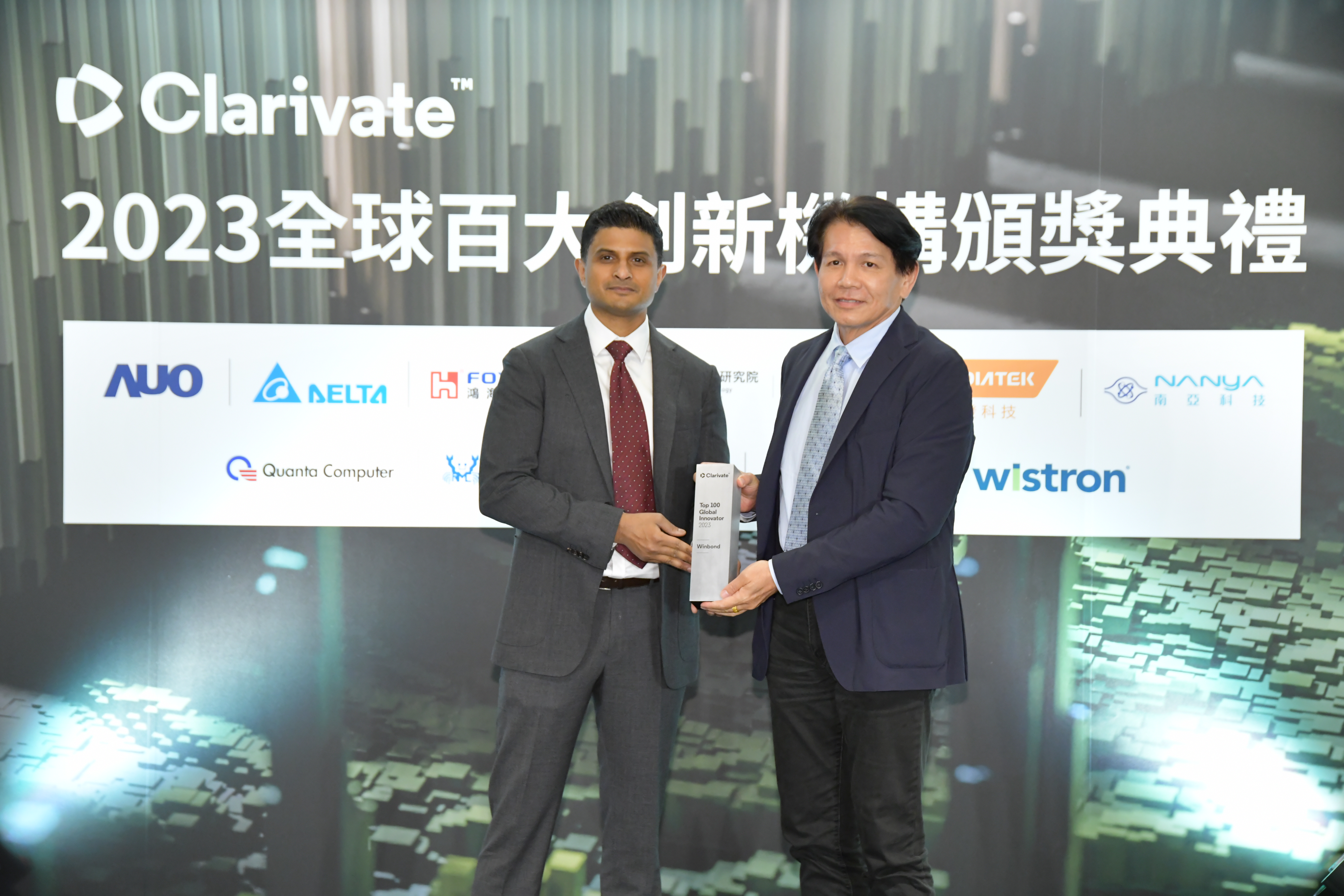 Spokesperson
Chih-Chung Chou
Chief Financial Officer
TEL:
886-3-5678168
886-987-365682
News Liaison
Mandy Wang
TEL:
886-3-5678168 #71477
886-975-995525
E-mail:YCWang16@winbond.com