TAICHUNG, Taiwan– 2023-02-15 –Winbond has joined the UCIe™ (Universal Chiplet Interconnect Express™) Consortium, the industry Consortium dedicated to advancing UCIe technology. This open industry standard defines interconnect between chiplets within a package, enabling an open chiplet ecosystem and facilitating the development of advanced 2.5D/3D devices.
A leader in high-performance memory ICs, Winbond is an established supplier of known good die (KGD) needed to assure end-of-line yield in 2.5D/3D assembly. 2.5D/3D multichip devices are needed to realize the exponential improvements in performance, power efficiency, and miniaturization, demanded by the explosion of technologies such as 5G, Automotive , and Artificial Intelligence (AI).
By joining the UCIe Consortium, Winbond supports interconnect standardization that simplifies system-on-chip (SoC) design and eases 2.5D/3D back-end-of-line (BEOL) assembly. The UCIe 1.0 specification provides a complete standardized die-to-die interconnect with a high-bandwidth memory interface, facilitating SoC-to-memory interconnection for low latency, low power, and high performance. Ultimately, standardization will power market growth in advanced multichip engines by accelerating the introduction of higher-performing products that deliver increased value for device makers and end users.
Winbond's 3D CUBE as a Service (3DCaaS) platform gives customers an one-stop shopping service. It includes 3D TSV DRAM (aka CUBE) KGD memory dies and 2.5D/3D BEOL with CoW/WoW optimized for multichip devices, in addition to the consulting service. That is to say; customers can have more completed and comprehensive support from CUBE and with extra value like Silicon-Cap and interposer. Winbond has been committed to providing the best product solution, and by joining the UCIe Consortium is positioned deliver standardized 3D DRAM and 2.5D/3D BEOL services to customers.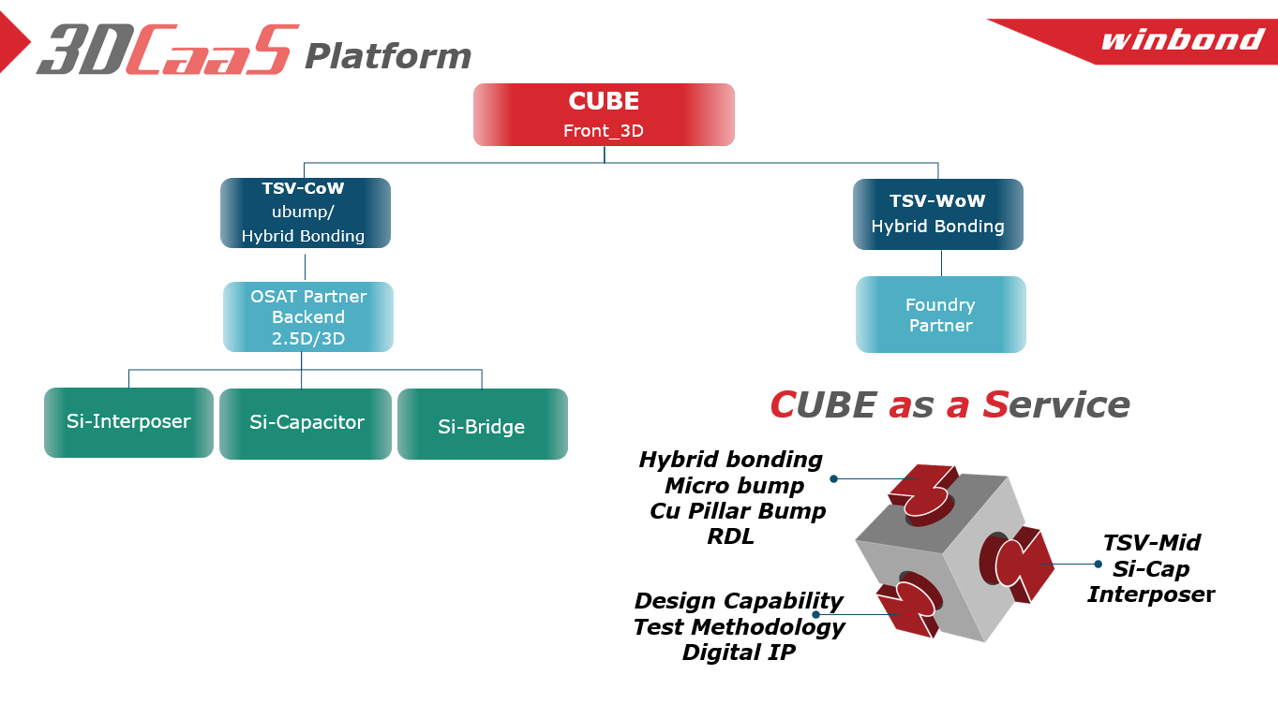 "The UCIe specification will enable 2.5D/3D chip technology to realize its full potential in AI applications from the cloud to the edge," said Hsiang-Yun Fan, DRAM Vice President of Winbond. "This technology has a major role in continuing to raise performance as well as ensuring the affordability of cutting-edge digital services."
"We're excited to welcome Winbond to the UCIe Consortium," said Dr Debendra Das Sharma, Chairman UCIe Consortium. "As a global supplier of performance memory solutions with expertise in 3D DRAM, we look forward to their contributions to further developing the UCIe chiplet ecosystem."
More information may be found at www.winbond.com.
---
About Winbond
Winbond Electronics Corporation is a total memory solution provider. The Company provides customer-driven memory solutions backed by the expert capabilities of product design, R&D, manufacturing, and sales services. Winbond's product portfolio, consisting of Specialty DRAM, Mobile DRAM, Code Storage Flash, and TrustME® Secure Flash, is widely used by tier-1 customers in communication, consumer electronics, automotive and industrial, and computer peripheral markets. Winbond is headquartered in Central Taiwan Science Park (CTSP), and it has subsidiaries in the USA, Japan, Israel, China and Hong Kong, and Germany. Based on Taichung and Kaohsiung 12-inch fabs in Taiwan, Winbond keeps pace to develop in-house technologies to provide high-quality memory IC products.
Winbond is a registered trademark of Winbond Electronics Corporation. All other trademarks and copyrights mentioned herein are the property of their respective owners.
Spokesperson
Chih-Chung Chou
Chief Financial Officer
TEL: +886-3-567-8168/+886-987-365-682