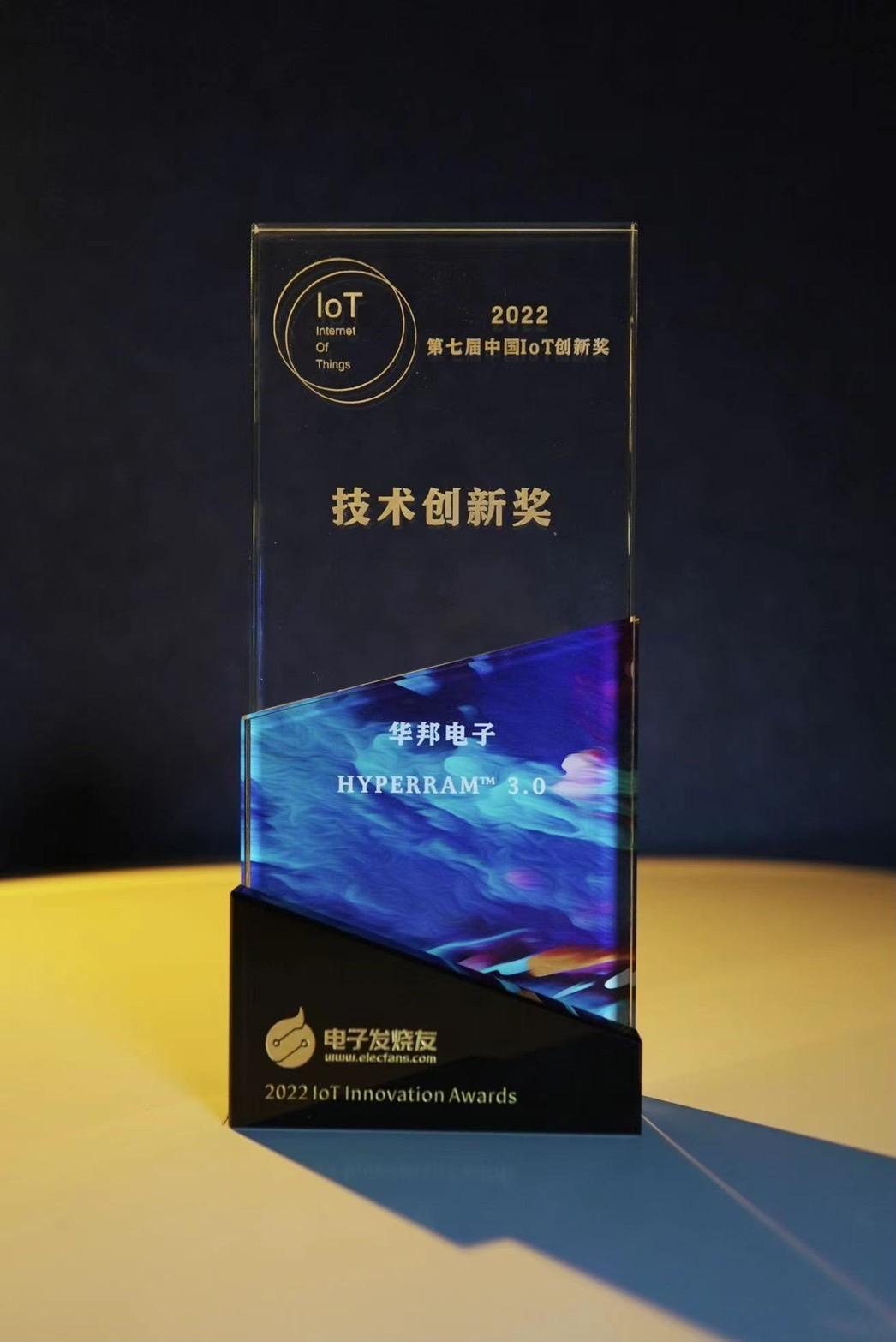 TAICHUNG, TAIWAN–2022-12-09—Winbond Electronics Corporation, a leading global supplier of semiconductor memory solutions, announced today that it has been awarded the 7th China IoT Technology Innovation Award 2022 by Elecfans for its continuous pursuit of technological innovation and excellent product performance with the launch of its next generation memory product HYPERRAM™ 3.0.
Established by Elecfans, a leading electronic media in China, the China IoT Innovation Awards has been recognized as one of the most professional, influential evolutions in Chinese IoT industry. The China IoT Innovation Awards aims to discover and recognize outstanding technologies and leaders in the IoT industry, as well as innovative products that have been highly valued and recognized by the market and industry users in the past years, so as to inspire more people to empower the advancement of IoT technology and development of the industry.
The HYPERRAM product range offers compact alternatives to traditional pseudo-SRAM and is well-suited to low power, space-constrained IoT applications that require an off-chip external RAM. HYPERRAM 3.0 is the third generation of the HYPERRAM family that operates at a maximum frequency of 200MHz with a 1.8V operation voltage, which is the same as both HYPERRAM 2.0 and OCTAL xSPI RAM, but with an increased data-transfer rate of 800MBps – double the rate that was previously available. The new generation HYPERRAM operates via an expanded IO HYPERBUS™ interface with 22 pins.
Low pin count, low power consumption and easy control are three key features of HYPERRAM that help it significantly improve the performance of IoT end devices. HYPERRAM significantly simplifies the PCB layout design, extends mobile devices' battery life, and works with a smaller processer via a lower pin count while increasing throughput compared to low-power DRAM, SDRAM, and CRAM/PSRAM.
According to IResearch, China's AIoT industry has entered a period of rapid growth in 2022, with a corresponding surge in demand for IoT chips and smart devices. The HYPERRAM 3.0 won the China IoT Technology Innovation Award is a high recognition of Winbond's continuous innovation. The HYPERRAM family is ideal for low-power IoT applications, such as wearables, instrument clusters in automotive applications, infotainment and telematics systems, industrial machine vision, HMI displays and communication modules.
More information may be found at www.winbond.com.
---
About Winbond
Winbond Electronics Corporation is a total memory solution provider. The Company provides customer-driven memory solutions backed by the expert capabilities of product design, R&D, manufacturing, and sales services. Winbond's product portfolio, consisting of Specialty DRAM, Mobile DRAM, Code Storage Flash, and TrustME® Secure Flash, is widely used by tier-1 customers in communication, consumer electronics, automotive and industrial, and computer peripheral markets. Winbond is headquartered in Central Taiwan Science Park (CTSP), and it has subsidiaries in the USA, Japan, Israel, China and Hong Kong, and Germany. Based on Taichung and new Kaohsiung 12-inch fabs in Taiwan, Winbond keeps pace to develop in-house technologies to provide high-quality memory IC products.
Winbond is a registered trademark of Winbond Electronics Corporation. All other trademarks and copyrights mentioned herein are the property of their respective owners.
Spokesperson
Chih-Chung Chou
Chief Financial Officer
TEL: +886-3-567-8168/+886-987-365-682