Community and Social Participation
Public Welfare Promotion
Winbond has been involved in public welfare for many years. "Caring for the socially underprivileged, focusing on environmental sustainability, and fulfilling social responsibilities" define the core CSR values of Winbond. To fulfill the ideals of caring for society, serving the public, and environmental friendliness, Winbond mobilizes internal company resources along with the enthusiasm and compassion of employees for areas such as "caring for children and youths," "helping the underprivileged," "promotion of public welfare," "academic sponsorship," and "art and cultural activities." The core capabilities of the industry are channeled into substantive social action. Employee participation is also encouraged to build cohesion, communicate the importance of giving back to society, and set the benchmark for CSR.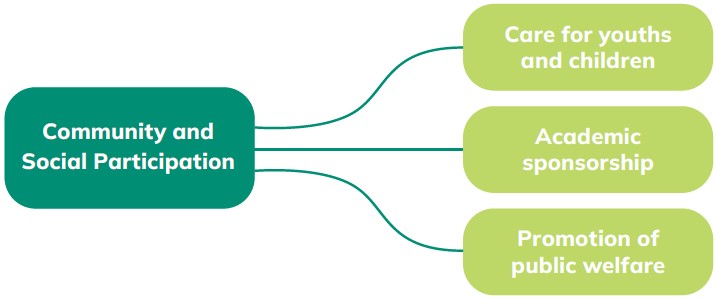 Community and Social Participation and Distribution of Resources in 2021

Academic Cooperation
In response to the government's "National Key Fields Industry-University Cooperation and Skilled Personnel Training," Winbond financially supported National Cheng Kung University to establish the Academy of Innovative Semiconductor and Sustainable Manufacturing. We proactively promote the development of Taiwan's key industries and nurture talents. The school cultivates students' professional knowledge while building a mutually beneficial bridge between the industry and college. We will use the rich resources within the company and the practical experience of the supervisors and teachers to jointly promote various learning channels and research opportunities such as semiconductor academic programs, industry-academia research, corporate visits, and internships. This allows students to be exposed to practical applications in advance while cultivating interdisciplinary professions and thinking. We jointly nurture young students, assist college students and postgraduates at National Cheng Kung University to have opportunities for interdisciplinary learning and reduce the gap between industry and academia.
Winbond has also spared no effort in expanding other campuses and cultivating talents. In 2021, we cooperated with Professor Chia-Yen Lee of National Taiwan University on a smart manufacturing project. The graduate students led by the professor and Winbond jointly carried out project development and research. The main contents include data analytics efficiency, quality enhancement, yield improvement, energy saving analysis and other topics. We helped students to connect with the industry in advance while at school. Meanwhile, we also contributed to the academic research developments of National Chiao Tung University in the field of information and communication and retained outstanding professors. We improved the semiconductor industry environment by combining academic resources.
In addition, through long-term support for International Symposium on VLSI-TSA and VLSI-DAT, Winbond can accelerate the upgrade of Taiwan's information and communications industry and increase the exchange of industrial technologies at home and abroad. We assist in promoting the exchange platform of leading technology for researchers related to semiconductor process and design and encourage the refinement of Taiwan's semiconductor technology. Based on the above, Winbond invested more than NT$10 million in talent cultivation and technology research and development in 2021, hoping to see more outstanding achievements and contributions to semiconductor talent cultivation and leading technology.
Sponsorship Amount for Academic Cooperation
| | |
| --- | --- |
| Symposium Sponsorship | Donation (NTD) 1,400,000 |
| Sponsored Academic Articles Published | Donation (NTD) 960,000 |
Academic sponsorship
Symposium on VLSI
Winbond demonstrates its enthusiasm for the industry by continuing to sponsor symposiums that create new technological exchange opportunities for the semiconductor industry. Through long-term support for International Symposium on VLSI Technology, Systems and Applications (VLSI-TSA), we can accelerate the upgrade of Taiwan's information and communications industry and increase the exchange of industrial technologies at home and abroad.
K.T. Li Foundation for Development of Science and Technology
The "Taiwan Semiconductors, New Layout of the Century" K.T Li Memorial Forum held by the K.T Li Foundation for Development of Science and Technology was sponsored by Winbond in 2021. We encourage newcomers to enhance the cooperation of semiconductors among industry, colleges, and R&D institutes. We hope that continuous promotion of the prosperity of Taiwan's semiconductor industry can be jointly discussed at the forum. An opportunity for the sustainable growth of the industry can be created.
Pan Wen Yuan Foundation
Since 2020, Winbond has supported the Pan Wen Yuan Foundation to promote the exchange of technologies such as semiconductors, information, and communications. We hope that we will be able continue to encourage outstanding research talents in the fields of semiconductors, information, communications and optoelectronics through sponsorship and exchanges. We support scientists in realizing their ideals with innovation and enthusiasm.
Caring for youths and children
Happy Breakfast Program for School Children in Remote Areas:
Breakfast is the most important meal of the day for school children as it provides the energy they need to attend school and focus in class. To help improve the breakfast of school children in remote areas, Winbond has been working with a non-profit organization since 2011, by which senior managers make voluntary donations to fund the happy breakfast program for remote elementary schools in Hsinchu and Taichung.
The breakfasts and support for remote schools are aimed at sustaining the basic needs and health of school children so they can be physically and mentally equipped to explore the world. Winbond provided NT$550,000 in breakfast funding in 2021 to continue supporting healthy learning for school children.
Breakfast is the most important meal of the day for school children as it provides the energy they need to attend school and focus in class.
Donation of second-hand computers
To enrich the information equipment resources needed by school children in remote communities, Winbond has proactively invested in the second-hand computer donation program. We take concrete actions to promote the basic needs of digital work and enhance the ability to use information technology. We hope to narrow the information gap between urban and rural areas while raising awareness of environmental protection and recycling. In 2021, we donated five second-hand computers to Taiwan Association for Quality Education, providing digital learning opportunities and enhancing digital capabilities.
Fundraising for Tuition Assistance
Statistics from the Taiwan Fund for Children and Families (TFCF) indicated that around 14,000 elementary students in Taiwan apply for tuition assistance each year. There is a gap of around 700 places in regular sponsorship funding. These amount to $2,000 per place each semester and $2.8 million per year in total. To supplement education resources for children from impoverished families so they can attend school on a regular basis, Winbond has been working with Taiwan Fund for Children and Families since 2017 by inviting employees to join the effort of raising education grants. From the company president to entry-level employees, our colleagues responded enthusiastically to the drive. 952 employees raised $3,216,000 in 2021. The amount is sufficient to support 804 elementary school students for a whole year!
Fundraising for Uplift Tuition Assistance
| | | | |
| --- | --- | --- | --- |
| Item | 2019 | 2020 | 2021 |
| Number of Donors | 834 | 877 | 952 |
| Donations ($10,000) | 2,884,000 | 2,976,000 | 3,216,000 |
| Number of Beneficiaries | 721 | 744 | 804 |
Promotion of public welfare
Donation of Positive Pressure Testing Booth (PPTB)
In May 2021, when the epidemic in Taiwan was severe, Winbond donated PPTB to Ten Chen and Yeezen General Hospital for screening purposes. The front-line medical staff could perform duties in a better quarantine environment. We hope to improve the outdoor collection and testing environment, create a positive epidemic prevention force in the society, and fulfill a part of our social responsibility.
Friends of the Police "Special Fund for Social Order Maintenance"
In 2021, Winbond donated the "Special Fund for Social Order Maintenance." to the Friends of the Police. The solatium of the special fund includes items such as the crackdown on organized crime and drugs and contact tracing of the epidemic (bonus). The special fund is also provided for emergency purposes during the severe epidemic period. In 2021, we sponsored a total of NT$1.5 million, hoping to comfort the police officers for their hard work in carrying out epidemic prevention and jointly creating a society with good social order.
Emergency care for employees
The Company has set up employee emergency aid and loan programs to help employees in financial distress when the employee or his/her family suffers sudden calamity, such as injury, disability, death, or accident, to make sure they can continue to work and live with assurance that their livelihood is secure.
Blood donation activity
The Company calls on employees to donate blood as a happy donor every year, which illustrates the Company's belief in the value of life in actions. In 2021, a total of 2 blood donation activities were held with 138 participants, and 234 blood donation bags were collected.